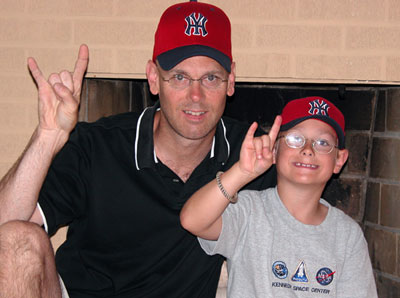 Robert Cowell of Easthampton, MA and his 6-year old son sport their matching caps. Dad reports that his son, already a true Yankee Hater, rarely leaves the house without his cap.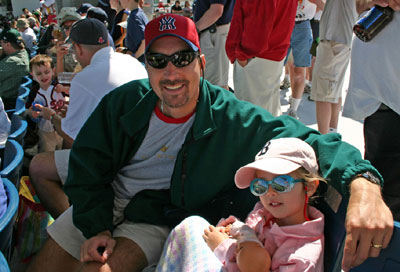 Yankees Hater #8516--otherwise known as Bob Knapik--takes his daughter, Katherine, to her first-ever Red Sox game. This game occurred during '05 Spring Training, at City of Palms Park in Ft. Myers, FL. The Knapiks hail from Titusville, FL.
"You say this fire call came from Yankee Stadium? Hmmmm. That's a tough one." Scott Valpey, a firefighter for the Egypt, N.Y. Fire Department, appears to have a contemplative moment as YH cap #4881 rests on his head.
If little Tess Cooley (left) could talk, she would probably say: "and if you think this looks rough, wait and see what I've got for that Yankees fan over there!" Tess hails from California (hre father, David, submitted the photo). The unfortunate victim is Alexander Albrecht.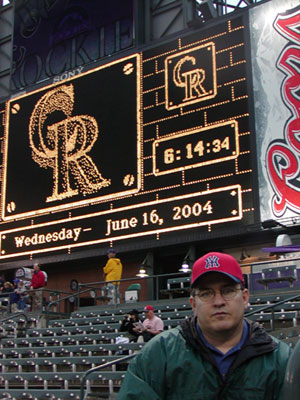 Paul Murphy of Colorado Springs, CO—otherwise known as Yankee Hater #3790—lets the crowd filter out of Coors Field after watching his beloved Red Sox take on the hometown Rockies earlier this season.


Kevin and Jolene Manning of Londonderry, NH enjoy their May wedding day under the cover of hatefulness (left). Later, Kevin and several members of the wedding party congregate in front of the Hatemobile and its precious license plate (right).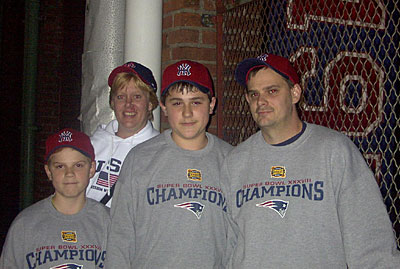 With an NFL championship already in the bag in 2004, this New England family arrives at Fenway Park in search of a Sox title. At the expense of the Yankees, of course.

Anthony Fittizzi of Belle Mead, NJ enjoys a hateful honeymoon in Aruba, with his wife Giselle behind the camera. This Yankee Hater is a big Curt Schilling fan, so the famed "YH w/ Horns" baseball cap has a solid #2 ranking on his list of favorite travel companions.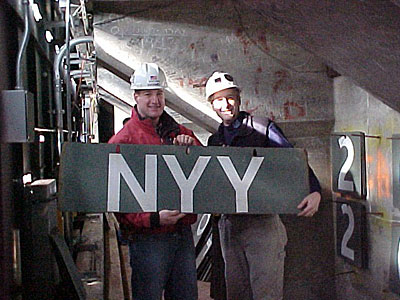 Yeah, we'll post a photo from a Yankee fan once in a while if it's good enough. Here, Chris Boino of Brimfield, MA and another member of the Shawmut Construction team (which built the right field roof seats over the winter) spread Evilness in the bowels of Fenway Park, as they hold the scoreboard placard of the team that they think is tops.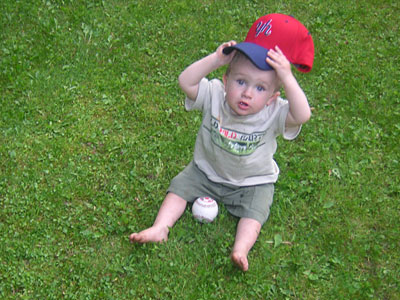 Trenton Adam, the 13-month-old son of Steven & Kellie Adam (Westfield, MA) dons a "yh" cap after pulling it off the head of a family friend, Sharon Kamlowski. No such thing as starting them too young!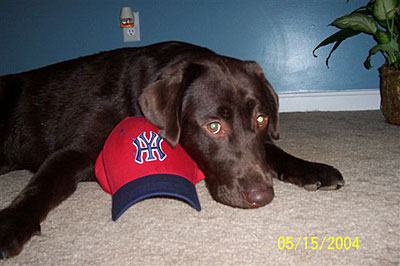 "No one messes with my 'Hater!" is the message seemingly conveyed by Barkley, a chocolate lab who resides in Sturbridge, MA with his owners, Heidi & Erin Cooper.
After 2 years playing in the AAA level of the Endwell, N.Y. Little League, Matt Potochniak was excited to learn that he was selected to play in the "Majors"
division this year. The excitement waned, however, when Matt was drafted by the league's Yankees team. Matt, an avid YH'er, refused to don the official MLB Yankees cap that came with his uniform, opting instead for the cap seen in this photo. Talk about taking a stand in hostile territory!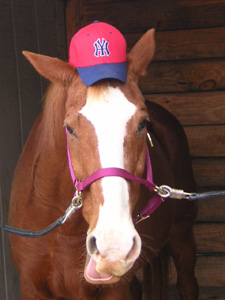 "Lucky", a horse owned by John and Melissa Farrell, sports a long face and a YH cap while hanging out in the barn. Didn't anyone tell him that the Sox won the World Series and pummeled the Yankees in the process?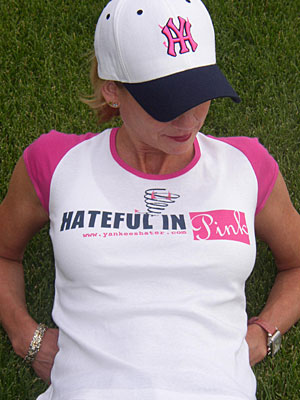 It's easy to relax with a "Hateful in Pink" baby tee, as Lisa Warren of Westport, CT demonstrates.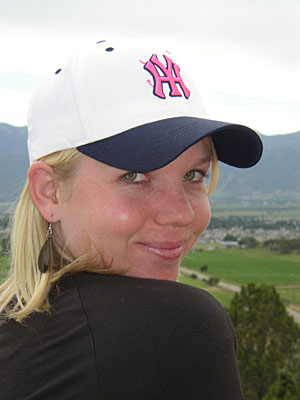 This Yankee Hater blends beautifully into the Utah landscape, notwithstanding the shocking pink hue of her '80's-inspired baseball cap.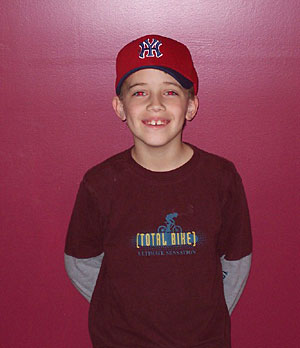 Bobby Lemon (no relation to former Yankee skipper Bob Lemon) takes a Kodak moment in his hometown of Ballston Lake, NY.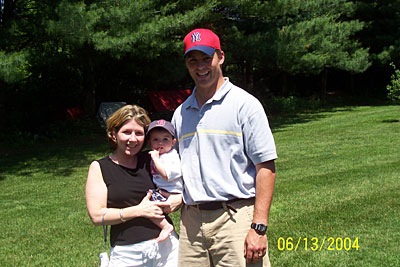 When one Yankee Hater (Sharon Codey) marries another Yankee Hater (Kevin Codey), the result is usually more Haters (like young Kaden, here). This family hails from Pittsfield, MA.

Our dog Fenway—just a pup at the time--gets off to a rocky start in the household after gnawing one of our original "yh" cap prototypes.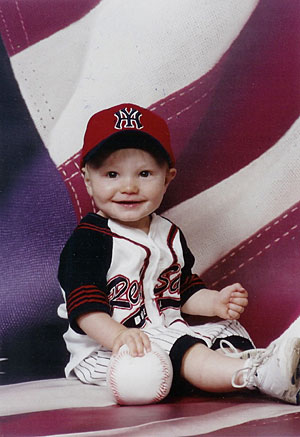 This Yankee Hater photo still amazes us. This is the "one year" formal portrait of little Michael Novia III. In other words, it's the type of heirloom that will be passed from generation to generation. Proud parents Michael Novia, Jr. and Tara Novia (of Worcester, MA) are now the answer to the following trivia question: Which two people are responsible for the second professional photo of the "Yankeeshater.com" baseball cap? (after the Curt Schilling photo snapped by Boston Herald photographer Mike Seamans)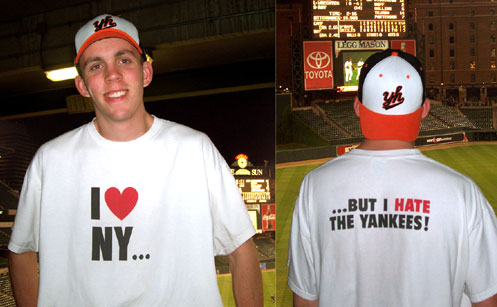 Tim Graham wears the mark of the beast (his cap # is 666) as he hates on the
Yankees on May 30, 2006 at Camden Yards in Baltimore, MD. As the scoreboard
in the background reveals, the Yankees weren't even in town!



Erin "Coop" Cooper of Lee, MA hooks into a trophy-sized rainbow in the Ottauquechee River in Pittsfield, VT as guide Matt Stedina tends the net. A red "YH with Horns" Yankee Hater cap takes in the action from atop Coop's head.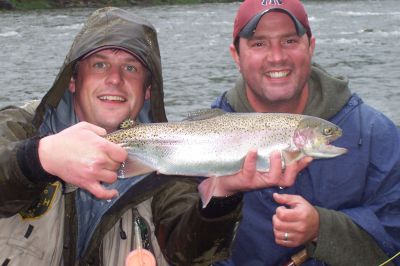 Erin "Coop" Cooper (right) and VT-based trout guide Matt Stedina (left) pose with a monster rainbow trout pulled from the Ottauquechee River in Pittsfield, VT. The trout was caught on a artificial fly expertly selected by Stedina and less-than-expertly cast into the river by Cooper.

---
You may also send your photographs by mail to: Rebel Forces, LLC, 95 Maple Parkway, Sparta, NJ 07871.
By submitting your photograph, you consent to its publication on this website and represent the others in the photo consent to the same. Photographs will not be returned.